Features:
ANYTIME ANYWHERE AS YOU GO

 

-

Our Ultrasonic Washing Machine adopts integrated design, mini style, which doesn't take large space. A convenient and small washing machine for cleaning the dishes after dinner or cooking, or clothes on a business trip o travel.

 

Easily suits bucket, countertops, or tabletop requiring less space.
ENERGY-SAVING & ENVIRONMENTAL PROTECTION - The mini portable washing machine has a single design and is perfect for personal laundry to save water and electricity.
USB POWER SUPPLY & 4 MODES - Our Mini  Mini Portable Turbo Washing Machine is recharged via USB and you can connect your mobile device,

 

free of installation

,

 convenient

,

 

waterproof

,

 

cleaner cleaning. The adjustable version features 4 MODES: Automatic cycle cleaning, Turbine positive and negative rotation cleaning, Bubble cleaning, Ultrasonic wave cleaning.
HIGH QUALITY & DURABLE MATERIAL - The mini washing machine is made of environmental protective ABS and TPR materials, which are durable.

The mini washing machine

bears about 1 kg of clothing weight.

It has a powerful suction cup on its bottom, so don't worry about shaking when you use it.
WIDELY USED

- This Ultrasonic Mini Portable Turbo Washing Machine is light and compact for easy carrying; It can be used in clothes, glasses, jewelry, fruits, vegetables, and so on. S

uitable for family, business travel, travel, camping, and so on. You can send your lover an Ultrasonic Washing Machine.
Working Principle:
The acoustic energy carried by the super vibrations wave is a cavitation phenomenon in the liquid, which will generate a large number of pressure explosive microscale bubbles. The air bubbles burst rapidly to generate shock waves, and the surface of the clothes and dishes is constantly brushed. These gaps can cause stubborn dirt to crack, emulsify, and peel. As a result, cleaning is achieved
How To Use: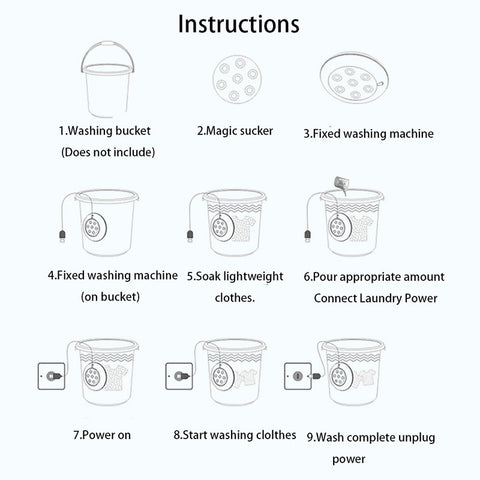 Specifications:
Material: ABS
Power: 6W
Input voltage: 10V
Power supply mode: USB
USB power supply: 1.2 meters long
Wavelength: 120 seconds
Total working hours: 15 minutes
Product weight: Automatic280g / Adjustable340g
Size: 90 x 90 x 40mm
Package included:
1 * Ultrasonic Mini Portable Turbo Washing Machine