Features:

Nontoxic: The lamp emits UV light to attract unwanted pests and eliminates them with a high voltage grid; no smelly sprays or harmful chemical attractants needed to keep an area of up to 445 square feet (40 square meters) free of insects.
Nature Friendly: The lantern runs on a combination of a solar panel located on the top and a rechargeable battery, creating less waste and eliminating heavy metal contamination from traditional batteries.
Portable: The LED lamp's small size and convenient handle make it perfect for not only use on patios and decks but tents, RVs, boats, and hunting cabins.
Durable And Attractive: The cast aluminum and ABS plastic construction feature a rustic, oil-rubbed bronze design that will blend with any décor. It's also waterproof, keeping you safe from pests, rain or shine.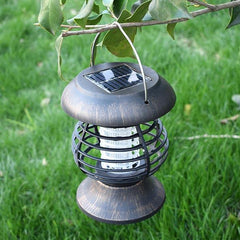 Specification:
Style: Neoclassical
Product Size: 15*15*26.5 cm
Package Dimensions: 16*16*27.5cm
Product Weight: 0.38kg
Package Weight: 0.45kg
Color: Bronze
Solar panel: 4V 80mA
Light source: 1 white LED + 1 UV LED
Power supply: 2 AA 600mAh 1.2V rechargeable batteries
Working time: 8 hours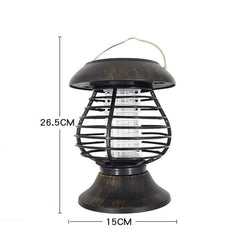 How To Use:
Turn the lighting switch to "ON2", and turn the mosquito killer switch to "ON1"
Package Include: