🎃Vivid Halloween Pattern, Good Playmate at Night🎃
Cute cartoon luminous tattoo stickers with patterns specially designed for Halloween
FEATURES:
Shine in the night: This tattoo will show color printing effect during the day, and some parts will glow in the dark.
Quick & Effortless: Carefree to paint your body without any commitment! Let you have more fun on Halloween
Vibrant colors and designs: Different sizes and patterns to mix-and-match with your Halloween and daily look.
Long-lasting: Cosmetic grade AB glue, odorless, waterproof, and wear-resistant. These stickers can last from 3 to 5 days.
Removable: Easy to peel off with alcohol IN ONE SWIPE. It would not leave any marks on your body.
Applicable to all body parts: Worry-free to place these stickers wherever you want!
Suitable for children: Soy extract ink, plant material, children can also use the sticker.
HOW TO USE: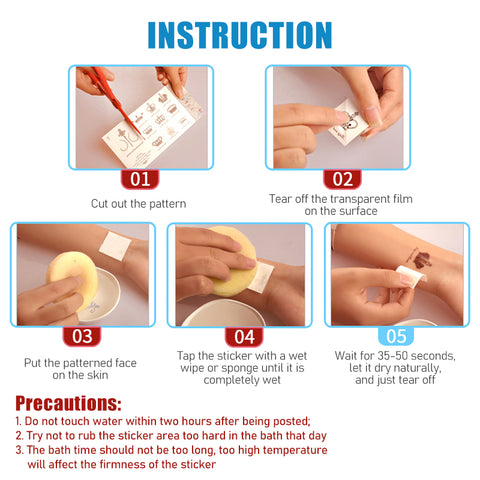 HOW TO REMOVE THE STICKER: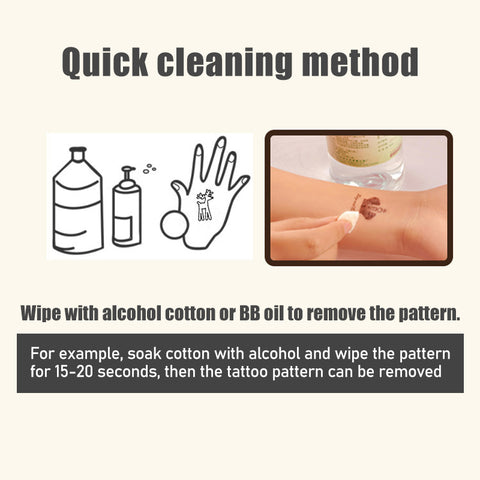 SPECIFICATIONS:
Style: Halloween, Holiday
Material: 

Soy extract ink, Cosmetic grade AB glue, Papel

Size: 105 * 60mm/piece
Set Weight: 15g
Set Thickness: 9mm
Set Quantity: 10 pieces (5 different pieces * 2)
PACKAGE INCLUDES:
1 Set * Luminous Halloween Tattoo Stickers