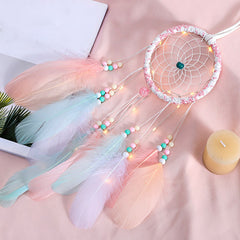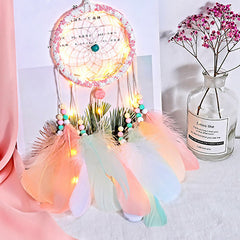 FEATURES:
DECOR YOUR HOME -  The greatest blessing to you and your family, perfect for windows, bedroom, living room, house, office wall hanging ornaments. Just imagine your room's wall elegantly draped with this unique dream catcher. Or, maybe it's your child's room, and he is sleeping peacefully under the dream catcher. Or maybe it can be hung in the garden. Either way, you came to the right place.
EXQUISITE GIFTS OR MEMORIAL WIND CHIMES - The gentle dream catchers is not only perfect for any gift-giving occasion, like Christmas Day, Anniversary Day, Thanksgiving Day, Valentines Day and Birthday, as a gift to your Children, Friends, Sisters, Daughter, Wife, and Mom, etc, or just as a surprise to remind that special one how much you care.
HIGH QUALITY - Totally handmade with leather rope, high-quality metal ring and chain, artificial feathers, and beads. It is a very versatile decorative pendant. The material of the dream catcher is Eco-friendly! Sleep peacefully knowing that your dream catcher is made from earth-friendly materials, It will strongly retain your good dreams, and let the bad ones slide away!
SPECIFICATIONS:
Material: leather rope, high-quality metal ring and chain, artificial feathers, and beads
Size: Circle diameter 11, Length 50
Color: Pink white、
Style: Dream Catcher/ Dream Catcher (with light)
Weight: 36g(no light) / 50g(with light)
PACKAGE INCLUDE:
1 * Belle Flower Dream Catcher (No/With Lights)